Playskool Easy Dunk - We Won!
We are the happy winners of the 5 Minutes for Mom Toys for 2 weeks contest! We won the Playskool Easy Dunk toy and it just arrived today. Just to give you an idea of how cool this toy is we took some photos. This hoop can hang on any door knob or handle. Check it out!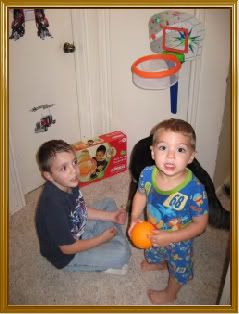 OK - That fun ended quickly! He started eating the ball and there are orange pieces being thrown in the trash right now. However, in Playskool's defense it is for ages 3+ and we are no where near that. It's still a cool toy!
Labels: 5M4M, contest and prizes, review: toy, winner