See Kai Run? - See and Win!
SeeKaiRun.com
has graciously given me the opportunity to try out a pair of shoes from their
smaller line
! Which is perfect for me since we have baby Priscilla to test them out on. I chose the
Nancy
style because I fell in love with the colors and the sporty shoe style is cute!
They arrived in the mail in this silver box design. I love it! It's perfect for gift giving or if you're like me and have a toddler in the house you can pass it on to them. They will turn it into a toy storage carrying case.
See Kai Run
is really thinking ahead on their packaging design. These adorable soft suede sporty shoes retail for only $35.oo. The size we have is 0-6 months. Priscilla is 2 months old and her foot measures 4" already! They are flexible and provide her with comfort. Because they have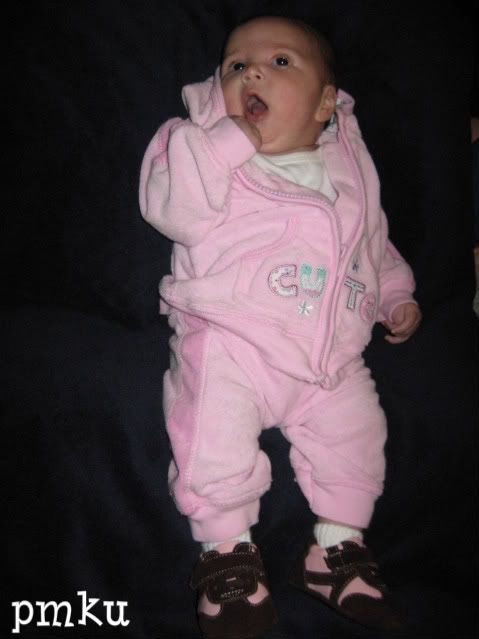 the velcro closures I don't have to worry about them falling off her foot and losing a shoe. I'm also comforted with the knowledge that their "... footwear has been awarded the American Podiatric Medical Association's prestigious Seal of Acceptance.
More info
." My toddler has what is commonly known as pigeon toed and it's important to me that my children are wearing appropriate footwear. I'm happy to start baby Priscilla off right! Here she is sporting her new Nancy shoes. Would you like to win a pair from
See Kai Run
's
smaller line
? Great! Here are the guidelines.
This contest is open to U.S. residents only.
Visit the
smaller line
and pick out your favorites, come back and leave a comment telling me your pick and who you would give them too! That's it. I will hold this contest open until 10/24 midnight and announce the winner by 9am cst on 10/25 here on this post. Good Luck!
Our winner is lucky #8 -
Pamela Vest (Check me out!) said... 8
I think the jake are so adoarable. My nephew would look so cute in them.
Labels: contest and prizes, review: baby