Thursday Thirteen #70 - 37th Birthday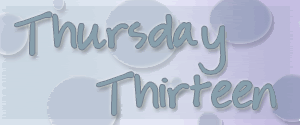 My 37th birthday was something to remember! I bring you my birthday Thursday Thirteen. Here we go...
1.) My internet buddies are the BEST! I had birthday wishes all over Twitter and Facebook. Thank you so much it really made my day.
2.) I spent the morning with twelve three year olds. They are really cute.
3.) One of my tires died on me while I was in between dropping off and picking up the kids.
4.) The city landscape guys were nice enough to put my donut on my van.
5.) The Discount Tire guys got me in and out of the store with a new tire.
6.) My children didn't wish me a Happy Birthday until my hubby told them too around 5pm.
7.) On the way home from soccer camp my hubby treated me to a yummy smoothie.
8.) My mother put a cheese cake "Birthday Cake" in my fridge while I was gone.
9.) My Mom left me a card, balloons and a wrapped gift (it was a new blender!) a gift certificate to my favorite snow cone place and some cash. Sweet!
10.) My hubby gave me a Wii and Wii Fit! Sweeeeeeet. My eldest son was drooling all over it.
11.) My toddler sat on my lap and sang Happy Birthday to me.
12.) Both of my brothers called me to wish me a Happy Birthday.
13.) I ended the evening with the 2 hour "So You Think You Can Dance" show and it rocked my socks. It's going to be a great season.
P.S. I'm still very sick. I'm not getting better but worse and now my grandma has caught our cooties. :( *sigh*

Labels: Happy Birthday, Thursday 13