Thursday Thirteen #92 - Thanksgiving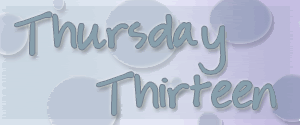 Happy Thanksgiving everyone! This week it seems only appropriate to list my favorite things that happened today.
1.) Spent the day with my family.
2.) Didn't have to clean.
3.) The kids got to visit with their family.
4.) We celebrated my grandmother's birthday.
5.) I got to see my eldest who I hadn't seen since Halloween.
6.) We got to have family movie night.
7.) We played baseball outside.
8.) The weather was nice!
9.) My husband brought home a turkey from work. He calls is a "workey."
10.) We got our computers back up and running.
11.) I got to take a 30 minute nap.
12.) We all went to bed early.
13.) There was a hot game of poker. My brother raked it in.
What about you?
Before you go, don't forget to link up! I'm sure we are in some of the same circles. Have a look around the side bars and don't forget to check the "
Add Me
" tab.
Labels: Memes, Thursday 13