A Year In Review - 2010 Goals
Great thing about blogging is you have this constant record of all your thoughts. Lucky me I actually had a Thursday Thirteen post that I wrote about my 2010 goals. I'm glad because my memory is less than stellar! lol - So let's see how I did.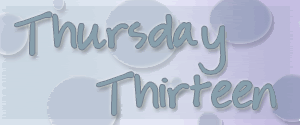 I'm going for some goals this year! I'm going to see if I can come up with 13 achievable goals. Ready?
1.) Become debt free except for our home. -
So CLOSE I can taste it. We are down to two debts! We own both of our vehicles and we paid off an enormous amount of debt thanks to the Dave Ramsey plan.
2.) Get my latest non-profit project completed. -
Never got this off the ground. My year was spent in constant kid chaos and I have YET to get anything done.
3.) Lose an average of 4 pounds per month. -
Um, No but I have said good-bye to a good 15-20 pounds.
4.) Read one book a month. -
Well I didn't meet this goal but I was able to keep up with a bible study class. I did pretty well with that overall.
5.) Get those new boots that I want. - SCORE! See super cool boots --->
here!<
---
6.) Get that super cool new purse that I want. - SCORE! I don't have a post about it though.
7.) Get my video camera fixed or get a Flip! I did not get my video camera fixed. I did not get a Flip but I got this instead! --->
see here<
---
8.) Complete more of our home projects. SCORE! -->
New Bathroom
<-- and -->
Honey Do List!
<--
9.) Work out 6 days a week. SCORE!!! --->
See How To Train A Spartan!
<---
10.) Train for the 5K in July. SCORE!!! -->Trained by doing a
Running Boot Camp
<-- then I ran it! -->
see here<
-- but I didn't stop there. I ran
another 5K
and then
one more 5K
! I was 5K happy this year.
11.) Be in bed by 11pm each night. - ROFL...um NOT EVEN CLOSE!
12.) Find healthier meals to cook. - You bet! I made some small changes. Apple sauce for veggie oil in items that are baked. I changed to olive oil for cooking my meats too.
13.) Play with my kids more! - I don't think I did a good enough job with this one. I know I tried but some days there wasn't a whole lot of time for play. That's just sad. Kids need to play. I hope that at some point our lives are less chaotic so there is more time to play.
Share with your friends and click on those "Like" and Retweet buttons. Before you go, don't forget to link up! I'm sure we are in some of the same circles. Have a look around the side bars and don't forget to check the "
Add Me
" tab.
Labels: Goals