Tip The Scale Tuesday - Week 11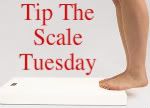 After busting my ars for the last week working out and breaking a sweat daily I've gained three pounds. Yep a whole whopping three pounds! Discouraged? Yes, very much so. What's different? I think it is possible I didn't eat enough. I might have skipped breakfast here or there and once again I went without water. I'm terrible about drinking water and I know this about myself. I'm pretty frustrated that is for sure. I've got my classes at the YMCA, my FitLinxx, my Wii Fit and my EA Active Sports package. I've got lots of resources and I use one of them daily. I don't know, until next week.
If you really want to know what I ate this week you can
click here
.

Labels: TTST