Tip The Scale Tuesday - Week 6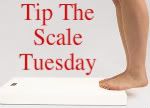 This week resulted in losing one whole pound. Basically my number is the same as when I started this meme. That's not cool at all. In my previous post I mentioned that I am back at the YMCA taking water aerobics. My plan is to spend an hour there each day if possible doing something! The kids respond well to going and that really is the most important part. I'm still working on what I'm eating and taking in more water. I lost another day in my food journal. Saturdays seem to be a problem for me because I keep forgetting to write it down.
My husband for the last 4 weeks has just said no to processed sugar and that has resulted in a 21 pound loss. Yep, he's fitting in his jeans nicely. This is all without any focused exercise regimen. Do you believe that? It's true because I'm here living with him and I see it. I don't know if I could do that. I've cut way down on my sugar intake but to have none at all? I don't know.
Until next week!
If you really want to know what I ate this week you can
click here
.

Labels: TTST