Thursday Thirteen #98 - Guilty Pleasures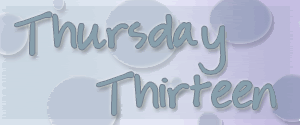 Are you ready to read about some of my guilty pleasures? Let's see if you share any of mine.
Before you go, don't forget to link up! I'm sure we are in some of the same circles. Have a look around the side bars and don't forget to check the "
Add Me
" tab.
Labels: Memes, Thursday 13