Tip The Scale Tuesday - Week 4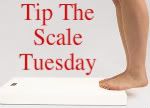 The scale didn't move this week. I'm really surprised because I hardly exercised and I ate terribly. Clearly I love Big Red and popcorn. It was a very stressful week with Mother's Day and all. My gift caused me a great deal of stress and I actually thought I would gain. Maybe this week will be better. No pressure like bathing suit season, right? I didn't take the baby out as much either because the mosquitoes are horrible. They've been biting her face. Until next week!
If you really want to know what I ate this week you can
click here
.

Labels: TTST