Thursday Thirteen #88 - Random Photos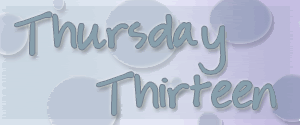 Are you ready for some random photos from my digital camera? Sweet!

My son's love for marker caps.

Lemon cupcakes with lemon flavored frosting for the bake sale. I dyed the frosting orange so it would go with the theme.
Strawberry cake with strawberry icing for the bake sale. I was going for a darker orange. I don't think it worked well but I hope it tasted great.
Emily and her Dad happy about the baby coming soon!
Yellow cake with chocolate flavored frosting. Last thing I baked for the sale and dyed the frosting green! Our pastor said it was yummy because she bought it and ate it, with her family of course.
Yard sale fun.
For some reason he always wants me to put a pen or pencil behind his ear.
Emily's husband taking a cat nap during the yard sale.
Silly and her love for shoes.
He's not mad, he's dancing!
It was so hard to get a good shot of them together. I never really got anything but they look cute to me any way.
She's only slightly a Daddy's Girl!
Brothers! Need I say more?

Before you go, don't forget to link up! I'm sure we are in some of the same circles. Have a look around the side bars and don't forget to check the "
Add Me
" tab.
Labels: Memes, Thursday 13