Tip The Scale Tuesday - Week 27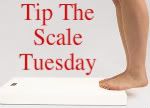 Gained a pound this week. I didn't work out this week I'm over scheduled. I did indulge in French Vanilla cappuccinos. They are full of sugar so...there it is and that's this weeks fiasco.
Before you go, don't forget to link up! I'm sure we are in some of the same circles. Have a look around the side bars and don't forget to check the "
Add Me
" tab.