Thursday Thirteen #85 - Movies I Would Like To See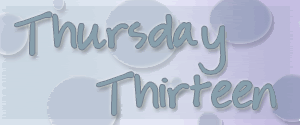 It's been a long time since I've been able to take in a movie at the theater but if I could these are my top 13 that I would like to see.
1.
Couples Retreat
2.
Whip It
3.
Where The Wild Things Are
4.
All About Steve
5.
The Informant!
6.
Precious
7.
Law Abiding Citizen
8.
The Invention of Lying
9.
MOTHERHOOD
10.
Julie & Julia
11.
Slumdog Millionaire
12.
500 Days of Summer
13.
Adam
Before you go, don't forget to link up! I'm sure we are in some of the same circles. Have a look around the side bars and don't forget to check the "
Add Me
" tab.
Labels: Memes, Thursday 13