Tip The Scale Tuesday - Week 24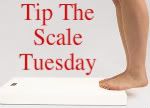 My trusty scale? HAH! I got on it this morning and had over a 50 pound loss. What the heck? I stepped on it again and it varied a little so I tried again, same thing. Then I moved it to another area of the bathroom and it was 5 pounds more than last week. What does this mean? Apparently if you put my scale in a certain spot in our bathroom you too can have a significant weight loss. Now what? Does this mean my scale has been lying the whole time? I need to find another room I guess. I was doing so well but I haven't worked out going on week 3. My peeps are still sick with their noses. Arg! Maybe I did gain the stupid 5 pounds. I have NO idea. I'm moving my scale to fix this situation.
Before you go, don't forget to link up! I'm sure we are in some of the same circles. Have a look around the side bars and don't forget to check the "
Add Me
" tab.