Tip The Scale Tuesday - Week 29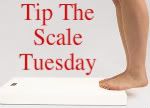 I'm holding my own this week, no changes at all. I'm trying this new circuit routine 2 days a week at the YMCA. It's killer! I can't wait till soccer season is over so I can get back to my beloved Zumba class. I love that class. The spin class is fun but hard. My eating habits are still crazy. Every single day I have a choice and lots of stress to go with it. I know what I'm working on for next year!
Before you go, don't forget to link up! I'm sure we are in some of the same circles. Have a look around the side bars and don't forget to check the "
Add Me
" tab.