Thursday Thirteen #94 - Christmas Goodies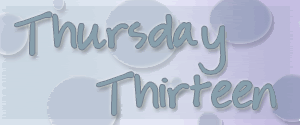 This was an awesome year for presents. I'm going to share my favorites with you in this weeks meme.
1.) $25 gift card to Star Bucks - Now I can have several Peppermint Mochas.
2.) $50 gift card to Chilis - We used it for a family of 5 with desert!
3.) My "Mom" necklace from my oldest son.
4.) My new terry cloth robe from my hubs.
5.) $50 Cash from my Mom.
6.) $50 gift card to JcPenny also from my Mom.
7.) Coffee cups! They were to my hubs but I'm pretty sure he is going to share.
8.) The Biggest Loser for the Wii. I haven't broken it out yet.
9.) $25 gift card to Olive Garden.
10.) Christmas cookies from our neighbors.
11.) A box of caramels in my stocking.
12.) A recipe book for Roasts.
13.) My kids made photo ornaments at school. I LOVE those!
Before you go, don't forget to link up! I'm sure we are in some of the same circles. Have a look around the side bars and don't forget to check the "
Add Me
" tab.
Labels: Memes, Thursday 13