Thursday Thirteen # 95 - Goals for 2010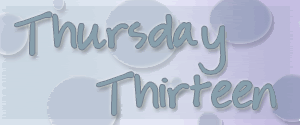 I'm going for some goals this year! I'm going to see if I can come up with 13 achievable goals. Ready?
1.) Become debt free except for our home.
2.) Get my latest non-profit project completed.
3.) Lose an average of 4 pounds per month.
4.) Read one book a month.
5.) Get those new boots that I want.
6.) Get that super cool new purse that I want.
7.) Get my video camera fixed or get a Flip!
8.) Complete more of our home projects.
9.) Work out 6 days a week.
10.) Train for the 5K in July.
11.) Be in bed by 11pm each night.
12.) Find healthier meals to cook.
13.) Play with my kids more!
Before you go, don't forget to link up! I'm sure we are in some of the same circles. Have a look around the side bars and don't forget to check the "
Add Me
" tab.
Labels: Memes, Thursday 13