Tip The Scale Tuesday - Starting The New Year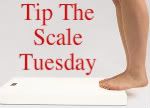 For the first Tip The Scale Tuesday of the new year I have a two pound loss. Go Me! That's a great way to start out. The plan is to work out this year at least 5 times a week if not more. Right now I take classes at the YMCA (3 days of boot camp, zumba 1 day and 2 days of circuit training). If you have followed along then you know I broke up with Star Bucks at the end of last year. This year I'm breaking up with Big Red. I know it's drastic but I need to do all I can to meet my goals. I'm done with this gain some, lose some, gain more! I've never put my actual number out here because I'm in denial and refuse to believe my scale. I'm pretty sure that as long as the number goes down and stays down then I should be doing better.
I'm not a pill person so diet pills are not ever going to work for me. I hate fish and really all seafood so that part of a new diet won't work for me either. I'm just going to make more of an effort about what I eat. I haven't gone to a fast food place in a LONG time. A few boot camp classes ago, I ate a cheeseburger 2 hours before the class. I will NEVER do that again! I won't eat before that class period.You don't want the gory details.
I have the new Biggest Loser for Wii but I haven't cracked it open yet. I have plans on it though. Some days there doesn't seem to be enough hours in the day. What I really need and I think most people losing weight need are classes that have to do with nutrition and cooking. My cooking methods are based on what I learned from my mother. Her cooking is based on whatever she learned from her mother. I wish there would have been more things to learn in school. I wish health classes went further in school about cooking and nutrition.
Yes, I can read a label and I get servings and calories, etc... but I want to cook food that I like! It would be better to get meals and snacks out of the process. I want to prepare stuff that doesn't require thinking. They are meals that are good for you already. That will be part of my search this year! Wish me luck.
Before you go, don't forget to link up! I'm sure we are in some of the same circles. Have a look around the side bars and don't forget to check the "
Add Me
" tab.