Tackle It Tuesday - The Garage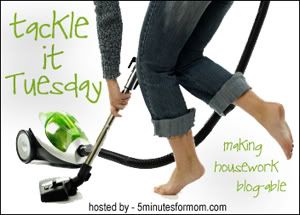 I should have taken before shots but I always seem to forget that part. This week I had to tackle the garage.

This is the top shelf in our laundry room. This shelf is normally stocked with all sorts of cleaning products. This is the finished photo.

In order to make room for the cleaning products stored in the laundry room, I had to clear a path in the garage first. Our garage looks like a cemetery for computer parts.

I did it! I entered the man's cave and took a shelf! It looks like a store shelf doesn't it? We shop at Sam's so we buy in bulk but I needed somewhere to store all these products. That's a huge tackle for today, trust me. What are you tackling today?
Before you go, don't forget to link up! I'm sure we are in some of the same circles. Have a look around the side bars and don't forget to check the "
Add Me
" tab.
Labels: Memes, Tackle It Tuesday