Tip The Scale Tuesday - Week 32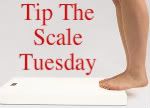 This week is a one pound loss. Last week I posted knowing that I need to keep a food journal. I had some computer glitches. Well, let's be honest I had many computer glitches. Viruses were once again trying to take hold of my computer. I had great dreams of tracking but it was not to be. However, I did notice a VERY unhealthy pattern this past week. I don't eat enough. I eat a meal once a day and that's usually at dinner. How in the world I can make it through the days like this week after week are beyond me. I make sure everyone (my kids) is fed first so they are quiet. Rather than join in on breakfast or lunch I just enjoy the silence. I find myself doing other things while they are out of my hair like cleaning the kitchen, changing out the laundry, etc. You get the idea. Then about 2 hours later after I've eaten dinner I'm starving again. Insert major snacking here after 9pm! Obviously this is a problem I need to get a hold on because honestly I'm in here. I'm in this body. I just need to match the body with what I see in my mind. *sigh* Back to the drawing board or should I say gym, I go.
Before you go, don't forget to link up! I'm sure we are in some of the same circles. Have a look around the side bars and don't forget to check the "
Add Me
" tab.