Tip The Scale Tuesday - Week 33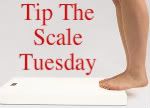 It's a three pound loss this week. There was no secret magic trick that I used for my terrible eating habits. I didn't work out more, actually I worked out less. I'm chalking it up to serious amounts of stress. My husband left the country and my children have been very sick, again. It's so hard to be consistent with anything when your kids are always sick.
Before you go, don't forget to link up! I'm sure we are in some of the same circles. Have a look around the side bars and don't forget to check the "
Add Me
" tab.