Thursday Thirteen #93 - Favorite Posts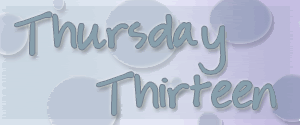 I've had this blog for going on year number three. As you can imagine there are a lot of posts! I thought I would revive 13 of my favorites. Don't worry my posts are pretty short and sweet. Let's see what I can dig up for you!
1.)
Flash Back Friday - Thompson Twins, If You Were Here.
2.)
Leg Huggers video review
. We had so much fun with this one.
3.)
10th Wedding Anniversary Thursday Thirteen
.
4.) This
Aloha Friday
question generated the most comments for this meme.
5.) The days of
boot camp
. I can't believe where I use to be.
6.)
Six things
no one else knows tag.
7.) Marketing to Moms,
Target vs. Wal-Mart
.
8.)
Allergy testing
, the skin prick test.
9.)
Ultimate Blog Party
post hosted by 5 Minutes for Mom this year.
10.)
Baby's 1st birthday
video footage.
11.) Scrap booking on photobucket.
Baby's 1st trip to the
beach
.
12.)
Tornado Toddler
series, the tarter sauce.
13.) A resourceful product for moms,
The Crotch Guard
.
Before you go, don't forget to link up! I'm sure we are in some of the same circles. Have a look around the side bars and don't forget to check the "
Add Me
" tab.
Labels: Memes, Thursday 13