Where's The Panic Button?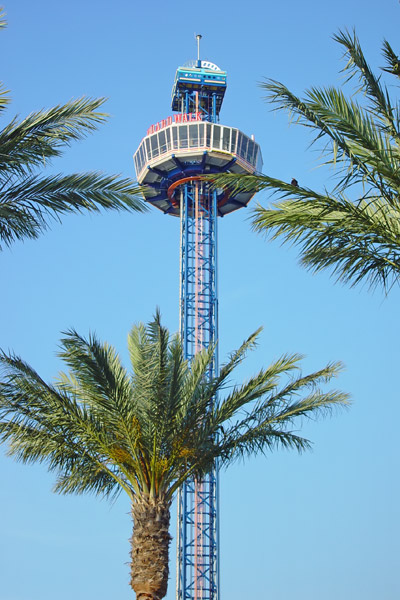 Today I was being the super cool mom by taking my super cute kiddos to Kemah Boardwalk. We spent money on the all day bands so we could ride all the rides and call it good. To get our moneys worth we went back again after my little girl took her nap and I made dinner. I didn't eat because I had GRAND plans of going straight from the boardwalk to the YMCA to get my run in for running boot camp. I wasn't about to get sick!
We decided to make the Kemah Boardwalk Tower one of our last rides. As we boarded the operator of the ride said, "the air conditioner is out, it's going to be a little hot." I didn't think much of it because we were on it earlier in the day and I didn't feel much a/c before. I'm sitting inside and the door closes and it gets hot. Part of me says BAIL!!! I don't care if the kids want to ride this, but then it was too late. I started to panic and it got hotter and hotter. I started to get really scared. I started to pull at my shirt and wave it back and forth for a breeze but it wasn't helping. We started rotating out of the sun and I thought it would get better but it didn't. I looked to my left at the lady's purse sitting next to me. I asked her, "Do you have a piece of paper in your purse?" I'm thinking fan! She started looking and handed me a folded up piece of paper. I began to fan myself but the sweat kept coming and I felt light headed and sick. I asked her, "Is there a panic button in here? I have to get out of here!" She says to me, "I don't think so but they did warn us about the a/c being out."
"I know, I just under estimated the heat!" I told her. I look to my right and see my three children sitting there sweating. I'm pouring sweat like
NEVER
before. I've been to boot camps, running boot camps, Tae Bo, Zumba, Spinning class and none of that compared to the sweat that was running off of my body. In my mind, I could see an ambulance coming to my rescue and realized it would be really bad if that happened. That would leave my 9 year old in charge of the other two. I quickly began to calm down and focus on breathing. I looked out the window and saw the shadow of the tower in the water and we were at the top starting to come down. I just tried to stay calm. Then the woman says to me, "At least were burning fat!"
Did that seriously just come out of your mouth?
Lucky for me she found another piece of paper and was helping to fan me. Her daughter was next to her texting someone in their family on the other side of the tower to see if there was a panic button inside the ride. She told me, "there's nothing there, there isn't a panic button!" I told her, "it's ok, we are half way down I will be ok." The ride was finally over. There were a few other men getting off the ride breathing hard and fanning themselves. I will
NEVER
do that again. I put myself in danger and I could have put my children in a scary situation. No ride is worth that no matter how badly they want to go on it.
Needless to say I was disoriented after that and we did leave. While driving I got turned around and lost and was quickly burning up my running time. After talking with my good friend Karen Nelson, she helped me get back on the road home and gave me some really good advice! "Call it a day! Go home and that's exactly what I did. Maybe next time they should just shut the ride down, that might be a safer call.
Photo courtesy of photohome.com. Before you go, don't forget to link up! I'm sure we are in some of the same circles. Have a look around the side bars and don't forget to check the "
Add Me
" tab.
Labels: review: customer service