Tip The Scale Tuesday - Week 16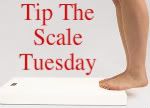 I did not weigh in this morning and just completely forgot. My grandmother was missing and it caused so much chaos that I got side tracked! Let me explain, my mother's a/c went out at her house so she and my grandmother are crashing here. They stayed in the full size bed in my boys room. This morning when the boys got up grandma was not there! I'm trying to figure out where she is because my mom went to work this morning. My son found her in our family room passed out on the recliner. Apparently our toddler kept them both awake coughing. There was some talk about asking my husband if there was medicine and there was some talk about him asking me and me saying, "No!"
I don't recall any of this at all. There was also talk of me snoring or something but that just isn't possible because Queens do not snore! rofl....
Any way that is why I got side tracked and then I spent the entire morning trying to get my boys ready for soccer practice. It is all a blur from there. I did sort of keep up with the food journal. My eating habits this week were just random. I've got serious drama all around me and I have a hard time finding an outlet at times which equals grabbing that bag of chips or that can of soda or that piece of (we have guests coming) strawberry cheesecake. I did great working out but this upcoming week I haven't made it to the gym at all! There is so much going on with getting ready for back to school and a zillion doctor appointments. I have much higher hopes for next week than this week. I'm going to weigh in tomorrow morning and see how much damage has been done. *sigh*

Labels: TTST