Reality Baby Shower - It's A Boy!
You might have been to a few of my online
cyber baby showers
or you might have even been a sponsor. I have hosted for Janice and Susan @
5minutesforMom
, Colleen Padilla @
ClassyMommy
, Margie Gunn @
Chesapeake Ribbons
, Candace @
Mamanista
and Sarah @
SassyFrazz
. It's been a while since I have hosted mainly because I had a baby of my own. Now I get to host one offline! This is my very first shower to host and I'm so happy to finally return the favor to my friend. This will be an ongoing post. Join me as I plan this big event and see what products I'm going to use. If you would like to sponsor a gift and be included in this offline event with a live audience please
contact me
. There will be lots of links, photos and video footage! Whoo Hoo.
Planning a live baby shower
Step 1: Choose a date and time - (November 14th) time (not included for privacy)
Step 2: Location - check (not included for privacy)
Step 3: Gather address list - Special thanks to
Google Documents
. Mom to be and I were able to share a spreadsheet back and forth to complete all the addresses.
Step 4: Choose invitations - Special thanks to
Tiny Prints
for sponsoring the invitations. Everyone is going to be oohing and ahhing. To see
how Tiny Prints has helped me
, please click on the link. I'm happy that no one will throw their invite away because that is a photo of Emily with her baby bump! That one is going in a keep sake album of some sort.
Step 5: Heading to
Babies R Us
and
Target
to help mom to be register for baby items.
Step 6: Joined in the #MomsRock Twitter party to find Mom Made products and
Lois Whittaker
from
Cushie Pushie
is going to sponsor her Mom Made
Cushie Pushie
for the shower.
Step 7: Invitations from
TinyPrints.com
have arrived and mom to be is very pleased! Now to get them mailed out so our guests have plenty of time to shop.
Step 8: More sponsors want to shower the baby with gifts galore! Vanessa from
My Mommys Bracelets
, Shari Murphy from
Baby Banz
, Colleen Padilla from
Classy Mommy
,
Karen Nelson
from
Design With Your Dime In Mind
,
Margie Gunn
from
Chesapeake Ribbons
and Cynthia Poblete creator of
The Diaper Clutch
. I'm throwing in a custom made diaper cake from
Happy Panda
.
-----------------------------------------------------------------
The new parents are having a baby crib set dilemma. Can you help decide? Please cast your vote on the left side bar where the poll is located! (
poll closed
) Thank you.
Photos and products are listed at
Nursery Depot
.
Option One -
Boxers or Briefs
Special thanks to
Karen Nelson
from
Design With Your Dime In Mind
who has offered her services to help decorate the baby's nursery!
Step 9: Food check! Emily's husband is going to cater the big event and we are going with a Mexican food theme. How does beef and chicken enchiladas sound? He's not forgetting the chips and queso.
Step 10: Emily's mom is taking care of the table center pieces and goodie bags. By the way she is using her
Cricut
. I'm amazed at what that machine can do.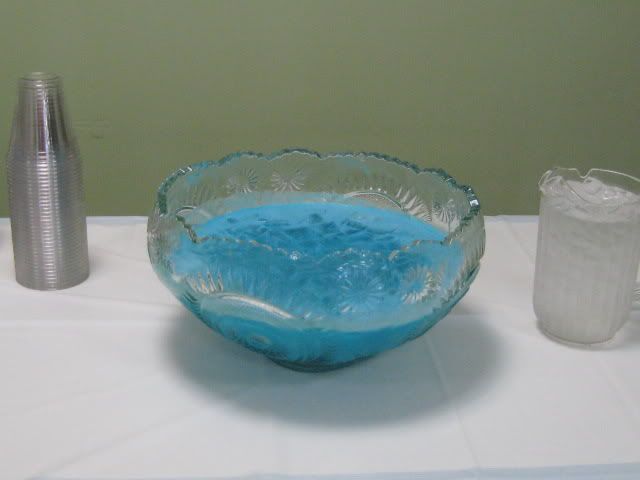 Step 11: What to drink? Coffee, water and Blue Punch! How cool is that? If you want I can post the recipe. It was great but the recipe only makes one batch. I made two batches but should have made three.
Step 12: Sam's Club for cutlery, plates and cups, Party City for game items and table coverings and Wal-Mart for prize items and punch ingredients.

Step 14: The Cake! - I have chosen a cupcake cake. The plan is to have 15 red velvet, 15 yellow, 15 chocolate and 15 french vanilla. The top will be frosted with the invitation photo (
Tiny Prints.com
) and the baby's name written underneath. Special thanks to
Jenny's Bakery
. Their customer service is top notch and they come HIGHLY recommended. When I asked my work out buddies at the YMCA several of them said,
Jenny's Bakery
. When I asked my mother who works at NASA she said her coworkers and the event planner their also recommended
Jenny's Bakery
.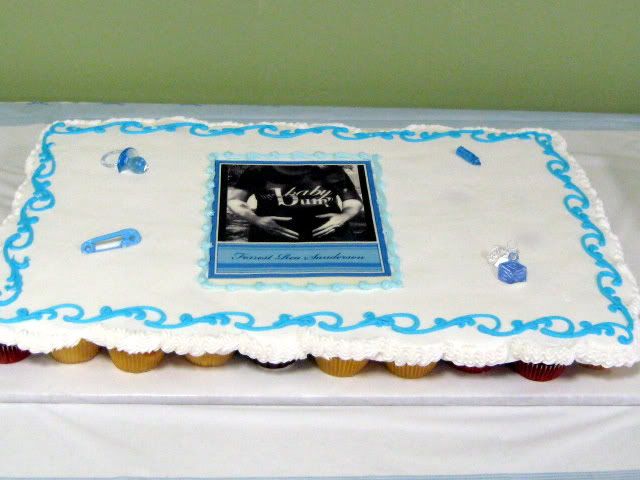 Step 15: 4 games! How many diapers are on the diaper cake? What's that smell? (the dirty diaper game)

The clothes pin game, you collect the pins off the person who says baby. The person who has the most pins at the end is the winner. How well do you know the Mommy to be? What do we do if we have a tie? No problem! They will have to answer a question about the Daddy to be.

Step 16: The slide show.

Before you go, don't forget to link up! I'm sure we are in some of the same circles. Have a look around the side bars and don't forget to check the "
Add Me
" tab.
Labels: review: baby, review: baby shower, review: for mom, review: printing