Thursday Thirteen #87 - Comment Luv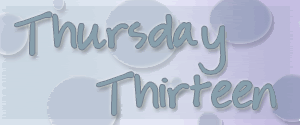 Since my big move to bloggywood it's been really hard making a come back. There are many great bloggers that visit and leave comments. This week I wanted to link back and dedicate my list to those who have shown me lots of comment luv. Check out their blogs and see if you don't get hooked!
1.)
Ordinary and Awesome authored by Sara Bonds
2.)
Flying Giggles and Lollipops authored by Michelle
3.)
Muthering Heights authored by Jessica
4.)
A Nut in a Nutshell authored by Blue Violet
5.)
Mostly BassAckwards authored by Sarah
6.)
From Pigpen To Paradise authored by Angie
7.)
Wee Shenanigans authored by Brooke
8.)
A Simple Kinda Life authored by Angie Marion
9.)
Happily Blended authored by BrandyEllen
10.)
From Son Up To Son Down authored by Erin Pyle
11.)
From Tracie authored by Tracie
12.)
Outnumbered 3 to 1 authored by Melissa
13.)
Jamerican Spice authored by Colette
Before you go, don't forget to link up! I'm sure we are in some of the same circles. Have a look around the side bars and don't forget to check the "
Add Me
" tab.
Labels: Memes, Thursday 13