Tip The Scale Tuesday - Week 26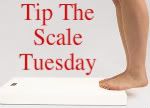 This week resulted in a gain of two pounds. Awesome! The stress is just killing me. At least I made it to a circuit training class today. I feel a little relief. Last week I made it to another spin class. I nearly puked afterward. Oh well, here's to next week. Minus Thursday because I have to get ready for the church Fall Festival. I have to sample my baked goods that I'm going to make!
Before you go, don't forget to link up! I'm sure we are in some of the same circles. Have a look around the side bars and don't forget to check the "
Add Me
" tab.