Thursday Thirteen #97 - Work out Moves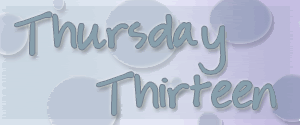 In celebration of the #mamavation Twitter party I thought it would be fun to to put together a workout post for Thursday Thirteen. These are a few of the moves that I endure each week. It's not easy but I'm getting results.
1. Burpees
2. Squats
3. Biceps
4. Spartan Pushups - This is hard!
5. Hindu pushups - It's going to be another couple of months to master this one.
6. Barbell row
7. Pectoral workout
8. Explosive pushup - I can't do these yet but I try.
9. Hip abduction - not as easy as it looks.
10. Bridging with a ball
11. Cross arm ball crunch
12. Side bends
13. Abs
Before you go, don't forget to link up! I'm sure we are in some of the same circles. Have a look around the side bars and don't forget to check the "
Add Me
" tab.
Labels: Memes, Thursday 13