Tackle It Tuesday - Shelves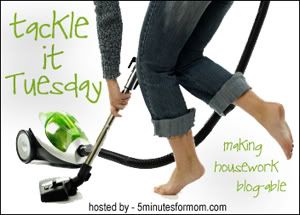 Whoo Hoo! I did it, I got the shelves up in the boys room. You knew I didn't do it alone right? Of course I had help from
Karen A. Nelson
. She has been helping me with organization ideas for my boys room.
We used this wall. The problem? My older son has stuff he doesn't want his younger brother touching and breaking while he is away at school. Solution?

These super cool shelves from
Lowes
. Karen hung the one on the left and I hung the other two with the help of my son. I did it! Anchors and all, go me. I love these shelves and now he can put what ever he wants on them because right now his little brother can't reach. I'm sure when my hubs gets back he's going to double to check to see if I hung them properly. lol
Next I wanted to get the hats hung up.

Solution for many hats? Two hat peg racks.

Go me! I'm super excited. If you get a chance go check out
Karen's new blog
. That is what I have been helping her with. We've been bartering! lol
Before you go, don't forget to link up! I'm sure we are in some of the same circles. Have a look around the side bars and don't forget to check the "
Add Me
" tab.
Labels: Memes, Tackle It Tuesday