Tackle It Tuesday - Giving Time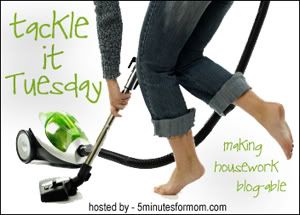 The bathroom closet took me about 4 days because I had to start and stop and start and stop but everything is organized once again. I just finished it this morning and I'm pretty proud of it. Now to keep it this way. I use lots of little storage boxes and storage drawers to help me keep everything in it's place. It was a great time to throw out all sorts of expired medications.
Now for the fun stuff to tackle! Our church is involved with all sorts of giving projects for the holidays. These are my favorite things to do. We are going to fill two stockings one for a boy and one for a girl. We are also going to work on filling a
Seafarers Box
. If you would like to find out more about the filling stockings or seafarers box program please click
here
.
Share with your friends and click on those "Like" and Retweet buttons. Before you go, don't forget to link up! I'm sure we are in some of the same circles. Have a look around the side bars and don't forget to check the "
Add Me
" tab.
Labels: Memes, Tackle It Tuesday